Cotter Pins are used to retain a variety of fasteners in many applications. ITW Shakeproof Industrial Cotter Pins are precision made and are ideal for use with ITW Shakeproof Industrial Clevis Pins. Cotter Pins are manufactured from either carbon steel or stainless steel and are available in plain or zinc finish. Plating may be inconsistent between the legs of a cotter pin, which will impact corrosion resistance. Length of the pin is measured from under the head to the end of the shorter prong.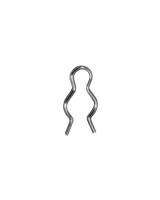 Hairpin Clips
For ease of assembly, ITW Shakeproof Industrial Hairpin Clips are an ideal, reusable fastener. Hundreds of uses can be found on small and large equipment with shaft sizes from 1/8″ to 1″. Clips require a groove to accommodate the wire diameter as listed in the chart. Hairpin Clips are made from steel spring wire or stainless steel.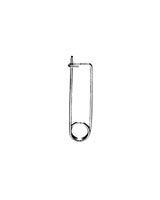 Safety Pins
Positive locking ITW Shakeproof Industrial Safety Pins have many uses where safety is important. All Safety Pins are made from hard-drawn plated spring wire.