Sometimes referred to as stud receivers, shaft retainers slide easily over unthreaded rods and shafts, or into recesses, keeping parts securely in place. By removing the need for secondary shaft preparations, these retainers significantly lower in-place costs. An internal tooth retainer does not require any threading, grooving, or notching.
As internal tooth retainers are slipped with little effort over unthreaded shafts, studs, and rods, the internal teeth flex, taking hold of the entire shaft circumference and initiate a strut action that provides strong resistance to back-off forces. The pilot teeth are a little longer on all of these retainers, except for the smallest in diameter retainers, and are situated to center and guide the internal tooth retainer as it is slid onto the shaft.
The specification of standard internal type Springrip retainers include application and removal forces. These force values indicate generally the holding power produced by non-standard sizes. With moderate force applied, and depending on the size of the part, the removal force may reach up to 10 to 20 times the originally applied force.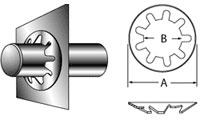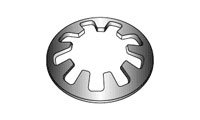 Springrip™ Retainer Strip Form
To facilitate repetitive installation, Shakeproof offers two styles of Springrip washers in strip form. Strips provide quick, easy installation. Retainers separate with twist or lifting of the part.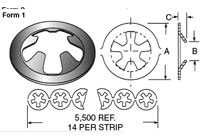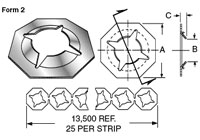 Wide Rim – Slotted Internal Tooth
The integral projections, or teeth, on the bearing retainer are slightly longer and a little more dished than those on the conventional shaft retainer. As a result, the bearing is securely nested, but is free to rotate.
Contact our team at ITW Shakeproof Industrial for more information about our selection of selection of internal tooth retainer options.
Wide Rim - Slotted Internal Tooth