Internal tooth retainers slip easily over unthreaded shafts, rods and studs. The internal teeth flex as the retainer is pushed on, engaging the full circumference of the shaft and setting up a strut action that strongly resists any back-off pressure. Slightly longer pilot teeth, on all but the smallest diameter retainers, are positioned to guide and center the retainer as it is pushed onto the shaft.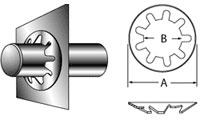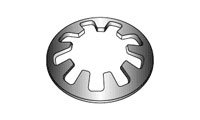 Springrip™ Retainer Strip Form
To facilitate repetitive installation, Shakeproof offers two styles of Springrip washers in strip form. Strips provide quick, easy installation. Retainers separate with twist or lifting of the part.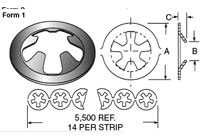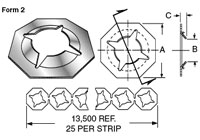 Wide Rim – Slotted Internal Tooth
The integral projections, or teeth, on the bearing retainer are slightly longer and a little more dished than those on the conventional shaft retainer. As a result, the bearing is securely nested but is free to rotate.
Wide Rim - Slotted Internal Tooth