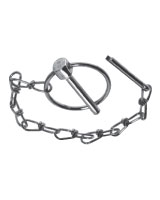 As self-locking types of fasteners, lynch pins (sometimes called hitch pins) are inserted through an axle. They block objects from their natural tendency to slide off an axle when it moves. ITW Shakeproof Industrial Lynch Pins are designed to be one of the finest quick disconnect fasteners on the market.
Design of Our Locking Lynch Pins
The design of the self-locking ring allows the pin to be securely held in place and provides an easy grip for quick removal. Forged for maximum strength, the pin is manufactured from low carbon steel, and the rings are manufactured from hot drawn spring steel. Finally, for corrosion resistance, the pin is zinc electroplated and chromate dipped.
Function of Lynch Pins
A lynch pin can be used in the following way. After positioning the object on the axle, the lynch pin is inserted through the end of the axle, which prevents the object from sliding off the axle. The lynch pin blocks the object's movement, resisting any shear forces it encounters. Bolts and screws are not effective at preventing objects from sliding off axles because they are vulnerable to loosening when subjected to shear force. On the other hand, lynch pins are designed to resist the shear forces generated and retain objects on axles.
Let us know if you need small lynch pins, heavy duty lynch pins, or stainless steel lynch pins, such as a stainless steel wire lock pin. Our team is here to help.
Contact us today for more information about the selection of lynch pins we offer for various industrial applications.