The ITW Shakeproof BosScrew™ is the only screw engineered to not loosen in plastic applications. Its unique thread form, designed with the patented WERCS® technology, works directly with the creeping aspect of plastic to interlock with the boss. The BosScrew™ utilizes standard head diameters and has the highest drive-to-strip ratio in the industry. This is the maximum performance fastener for most plastic applications. Time, temperature, and vibration only strengthen the joint.
Best-in-class removal torque
Dramatically advances fastening performance
Increases manufacturing efficiency
Reduces overall installed cost
The BosScrew™ Benefit:
Reduces assembly components – no more inserts
Permits the design of shorter bosses – saves material
No spring components needed in the joint
Savings in service issues due to fasteners
Available in a variety of sizes and head styles

Available Features:
SEMS – add a washer under the head to span larger holes, protect fragile surfaces, and distribute load.
WERCS® Technology:
ITW's new WERCS® Technology is revolutionizing the design and manufacturing of threaded products. This technology allows the formation of unique geometries on the thread. Utilizing the WERCS® Technology, ITW has developed a suite or platform of innovative threaded products — products designed to dramatically advance fastening performance, increase manufacturing efficiency and reduce overall installed cost.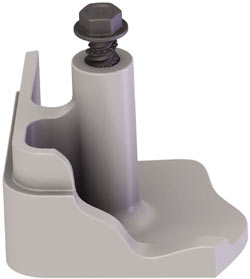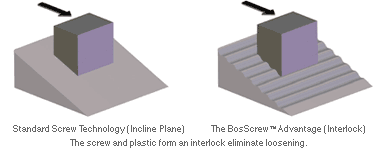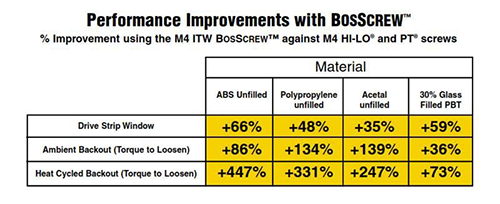 MAXIMIZED DRIVE-STRIP WINDOW
BosScrew is the maximum performance fastener for most plastic applications. The unique thread geometry prevents slipping for the largest drive-strip in the industry.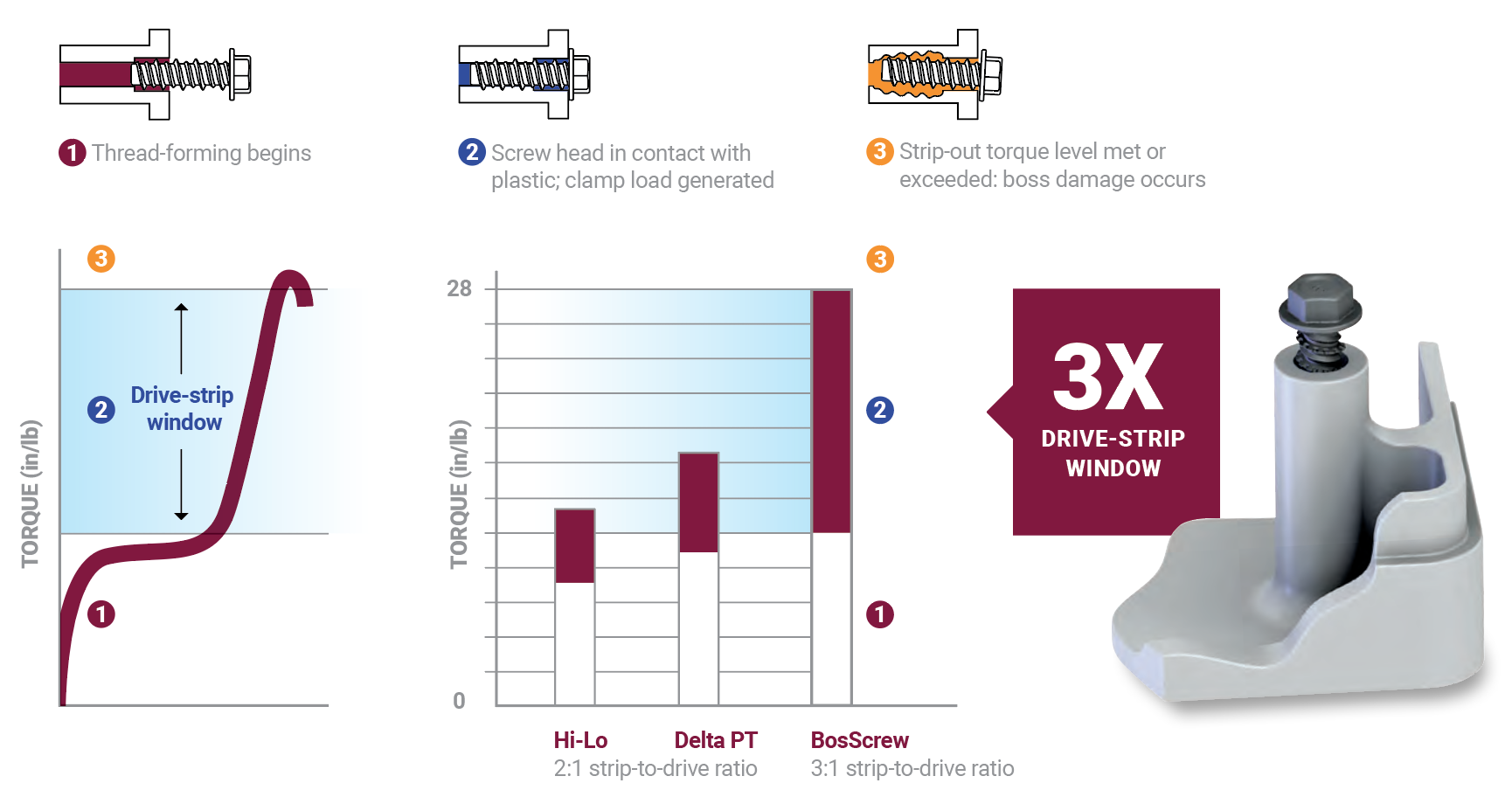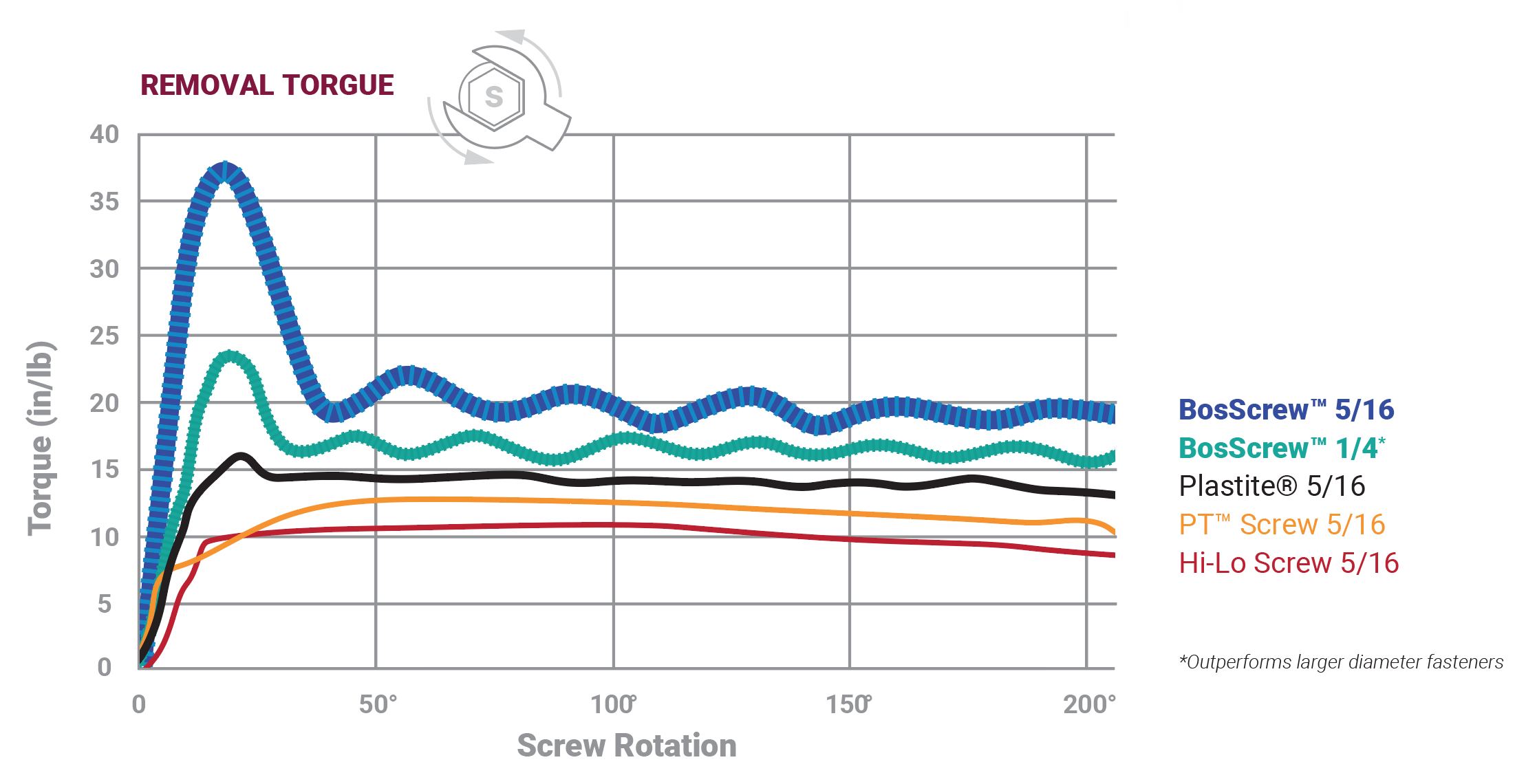 | | Typical Mean Pilot Hole | |
| --- | --- | --- |
| Screw Size | Inches (in.) | Millimeters (mm) |
| #4 | 0.09 | 2.3 |
| M3 | 0,093 | 2.37 |
| #6 | 0.122 | 3.1 |
| M3.5 | 0.122 | 3.1 |
| #8 | 0.132 | 3.36 |
| #10 | 0.154 | 3.92 |
| M4 | 0.132 | 3.5 |
| M5 | 0.154 | 3.9 |
| M5.7 | 0.17 | 4.32 |
| M6 | 0.186 | 4.8 |
| 1/4 | 0.21 | 5.33 |
| M6.3 | 0.209 | 5.31 |
| M8 | 0.248 | 6.3 |
| 5/16 | 0.265 | 6.73 |
| 3/8 | 0.286 | 7.27 |
* Approved recommendations with Acetal Nylon ABS and PBT or equivilant materials