TEKS® SELF-DRILLING FASTENERS
ITW Shakeproof TEKS® Self-Drilling Fasteners work great in both sheet metals and non-metals. Once the hole is drilled, the fastener taps the hole in the same way as thread forming or cutting screws do. The mating threads are created to match the threaded fastener perfectly. The screw is designed so that the drilling function is completed before the initial thread engages so that all voids and material thicknesses are accounted for. At ITW Shakeproof Industrial, we are your source for TEKS self-drilling fasteners.
Advantages:
The benefits of TEKS self-tapping screws or self-drilling screws include:
Reduction in labor operations and time
Ideal for automated assembly
Reduces or eliminates the need for drill-bits
The proper hole size is always drilled
Eliminates torque variations caused by paint build-up, weld flash or foreign material
Available Features:
The features included with our TEKS self-drilling fasteners in the form of screws include:
SEMS – place a washer underneath the head of the screw to protect delicate surfaces, span large holes and disseminate load.
GER-NIB® – ideal for applications sensitive to torque
GER-NIB® FEATURE: For particularly torque-sensitive applications, Shakeproof's torque-robbing Ger-Nib feature can be incorporated in the Teks fastener head.
TAPPING AND FASTENING:
Once the hole is drilled, Teks fasteners tap the hole in the same way as thread forming or thread cutting screws do in a pre-drilled hole. Teks fasteners, however, provide two outstanding installation advantages over ordinary self-tapping screws:
By point design and diameter control, Teks fasteners always drill the proper hole for optimum fastening. The possibility of an incorrect hole diameter or an out-of-round condition is eliminated, assuring consistent driving and fastening torque.
Torque variations caused by paint build-up, weld flash or foreign material in pre-drilled or pre-punched holes are eliminated.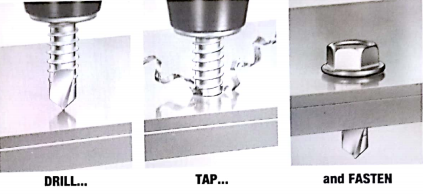 Figure 1 shows a No. 8-18 Teks fastener drilling a hole in steel. Maximum drilling efficiency rs attained as it advances at the rate of .004″ per revolution. The screw thread rate of advancement, however, is .055″ per revolution. It is therefore essential that the drilling function be complete and the material be fully penetrated before the first screw thread engages. To meet this requirement, the unthreaded length of the Teks point must be equal to, or greater than, the material thickness to be drilled. It is important to understand that where more than one sheet of material is involved the calculation of the total thickness of the material to be drilled must include void; or spaces between the sheets.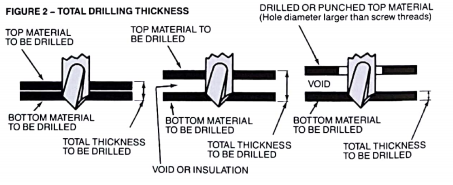 Figure 2 illustrates three examples.
Contact Us for TEKS Self-drilling Fasteners
For more information about our selection of TEKS self-drilling fasteners, and TEKS screws for metal, call us today at 920.261.2652. Otherwise, drop us a message or request a quote using our contact form.